13.06.23
Work
An experiment to compliment the 'Motif' EP, incorporating Mesh's immersive explorations and a collaboration between Max Cooper, Mykola and Illust.
Once again Sonar is about to transform the city of Barcelona into a temporarily other place, settling into the streets with unseen psyco-acoustics, arranging digital visitations and inviting you to bask in synesthesia, induced by remarkable AV experiences, performances and ideas, as the leading edge of performers, artists and wizards descend to conduct the atmosphere of the city through sound, light and music.
Mesh and Max Cooper are occupying this autonomous zone with their own temporary layers of reality. Playful digital echoes about and for the space we inhabit, how performance and being part of performance alters space, and participating alters us. Music and passage are both movements that can only be described by labyrinth lines we leave after the fact, passing through cities as faux flaneurs, while the sounds and memories pass through us.
Fitting then that the Spatial Computing revolution is now 'officially' in the broader consciousness, joining AI, Blockchain, and numberless other paradigm-fattening concepts jostling for air and imagination.
Coming alongside the release of "Forgotten Places' ' Max Cooper's new single, and his Friday Performance at Sonar, Mesh is planting augmented reality experiences geo-tethered across the city. The individual installations are based on the visual collaboration that informed the single (and the forthcoming EP from which it is taken).
Continuing Max Cooper's method of working with remarkable creators and thinkers across fields. Another luminary of computational art can be added to his list of collaborators. This time Mykola Haleta, helms the visual expression of this release, and visitors will be able to experience aspects of the work produced for it, extended into the spatial environments that map the memories of a journey across Barcelona.
"I am obsessed with patterning systems. I care equally for formal arrangements of color and shape as I do for matters of human behavior." - Mykola Haleta, artist and creator of 'Motif' artwork)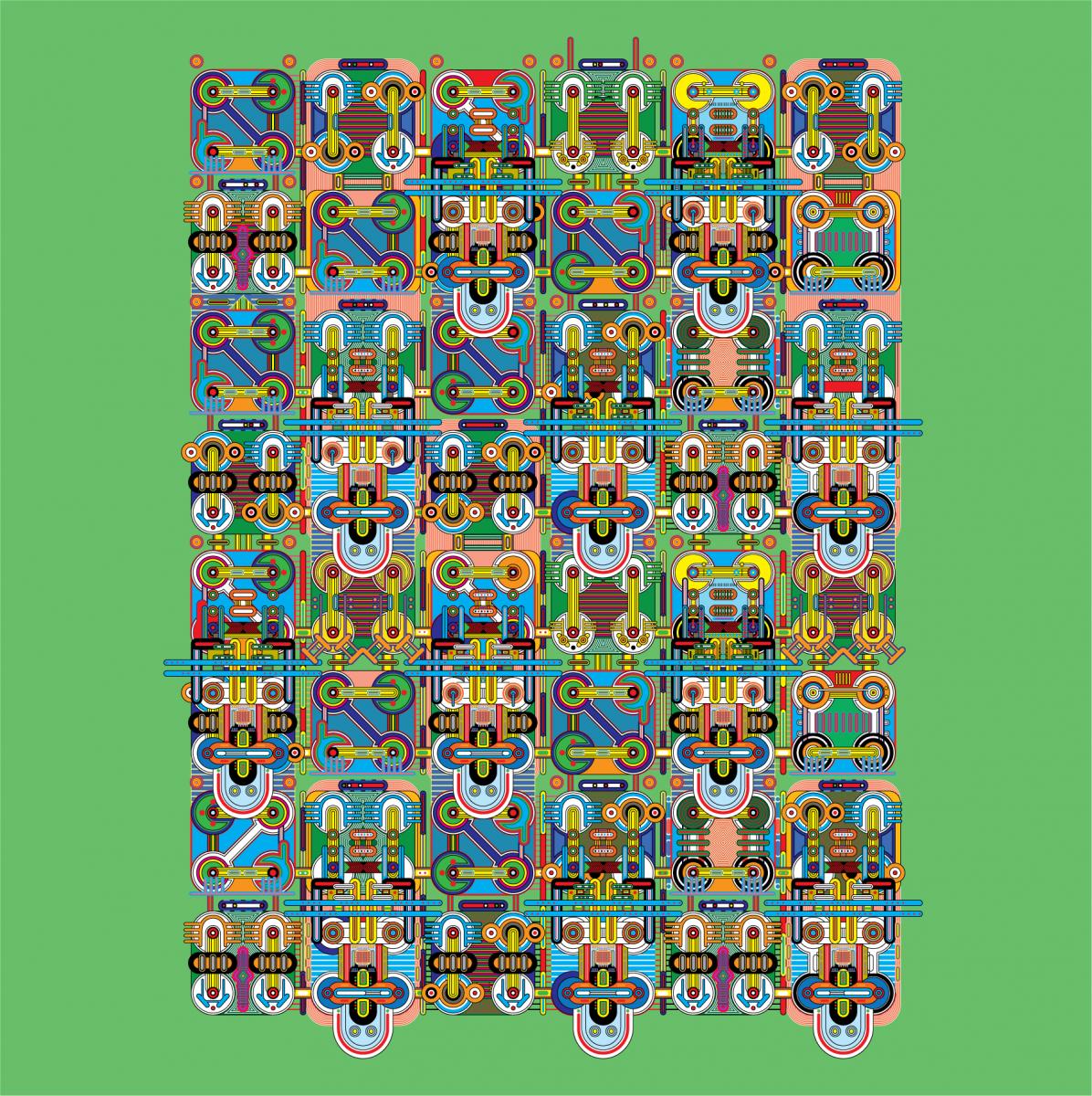 Engaging with a piece creates a proof of their presence, encoded on the blockchain (they will also receive the 'proof of their proof' in the form of limited edition digital art).. Mykola's work explores systems, spatial relationships, and the chaos and complexity that our journeys through the world create. Similarly, as visitors engage with the art displayed around the Sonar site and the city, they will create their own trail in time and space, plotting a generative geospatial artwork which will be anchored to the city in AR as a lasting legacy to their in this time and place. The 'proof of presence' will leave a skein of data, a digital presence as art and a digital/physical reminder of a real-life moment.
This physical-to-digital abstraction dovetails into a larger conversation Max and Mesh are having around the aesthetics of epistemology and digital art anchored in a time and place (reference PVNP which debuted at the Acropolis in Athens in 2021).
To begin the journey please visit https://link.illust.space/mesh-sonar for more information.
Mesh hosts an ongoing conversation around tech, experience, and the intersection of music, science and art - if you haven't already joined the Mesh community on Discord, you can do that here.
How it Works
Visitors to Barcelona will receive a special "Forgotten Places" map which features a series of "pathways" or thematic points of interest that bring to life different aspects of Mesh. Some of these pathways include works from Mykola, Max, Mesh collaborators, and Mesh lifestyle and will be presented by the Illust mobile application.
At any given point of interest on the map, visitors can activate claimable augmented reality audio, visual, or A/V experiences from Mesh as a Proof of Presence token (NFT). Those who collect 5 different Proof of Presence tokens from the map will receive a specially unique 1/1 3D artwork of their pathway through Barcelona. Please visit Mesh's Discord to be in the loop for when special claimable works can be collected from activation.
Destinations and Works
The city of Barcelona and the greater Sonar festival will play host to augmented works from Max Cooper, Llyr, Mykola, and more Mesh artists. Some notable locations for the works are Basilica Of The Sagrada Familia, Museu d'Art Contemporani De Barcelona (MACBA), Barcelona Supercomputing Center and Sónar+D.